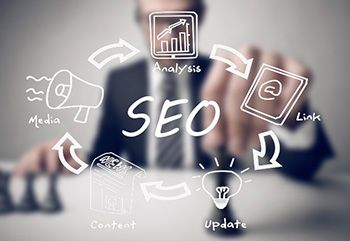 SEO
PROMOTION
Site Promotion in the top search engine is crucial in the fight for the buyer (customer). It's no secret that the higher your site's position in the search engine, the more likely it is that people will go to Your site and order your service, product or subscription.
In this article, we will try to understand what SEO promotion is.
TERM
SEO Term, if translated literally, means - site optimization in search engines.
This is just the cornerstone, the essence of which is reduced at the initial stage of promotion to optimizing the site for its output in search engines: reducing the size of images, the adequacy of the document structure (page), matching titles, and so on. If it is not produced or incorrectly implemented, then further actions for promotion are nullified.
After optimization, there is a further promotion process: purchasing external links, writing unique articles, etc., to attract new traffic to the site.
Now in the network You can find a bunch of (no other way to say) various services for automatic promotion to the TOP for relatively little money, but be careful! Search engines are no longer simple search engines, they are already complex systems that take into account many parameters, including behavioral factors: clicks on the site, going to other pages of the site, working with forms, etc.
These systems have long learned to determine automatic site promotion from manual. And as a rule, recognizing this, they impose filters (bans) on the promoted site, as a result of which it may simply fall out of the search engine's output (positions will fall sharply).
Therefore, you should trust people and companies that have experience and knowledge in this matter.
CONTEXTUAL
ADVERTISING
SEO promotion at the initial stage takes quite a long time. For example, the Yandex search engine begins to trust new sites after six months and allows them to occupy TOP positions. But what to do, six months is a long time?
There is a Way out and this is contextual advertising. These are special search engine services for placing ad blocks directly in the search engine. As a rule, the cost is calculated from the competition of the request, placement (position of the ad) and paid per click (click on the ad).
To manage an advertising company, there are tools that allow you to calculate the budget, set up impressions for the audience that will be interested in the advertising company, up to the age, gender and time of display.
SMM
Recently, promotion in social networks has become another effective advertising channel. This area is called SMM (social media marketing).
It is Believed that the information transmitted by such means is highly trusted by potential consumers, since it is based on recommendation schemes of people's social connections.
RESUME
Skilful use of these mechanisms allows you to achieve high performance in the implementation of Your products, services and offers.